St. Michaels Historical Society
St. Michaels History and Church Directory Book
The Saint Michael History/Church Directory Book includes the history of the parish, town and Sacramental records of the parish from its inception to 2004. Also included are Sacramental records of St. Anthony parish from its inception to 1973 when it was closed.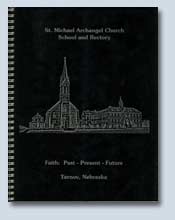 St. Anthony is where many of the first settlers attended Mass before St. Michael was built and after it was closed many parishioners joined St. Michael. You will also find a brief story on the five closed parishes in the area: St. Mary of the Angels, St. Anthony, St. Bernard, St. John Nepomucene, and Sacred Heart.
You may purchase this book for $30.00 from the Historical Society. Add another $5.00 for shipping and handling if you need to have it mailed to you.
St. Michael Historical Society, 309 Third St., Tarnov, NE 68642
or
Judy Hanzel, 28512 370th St. Platte Center, NE 68653 ph. 402-246-4807
or
Mary Jane Rosenthal, 38044 385th St., Humphrey, NE 68642 ph. 402-920-1785