St. Michaels Historical Society
Welcome to the St. Michaels Historical Society website. Our site contains information about the past and present of our parish. St. Michaels Catholic Church is located in the village of Tarnov, Nebraska, in the heartland of the United States.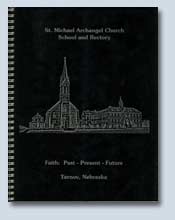 The Saint Michael History/Church Directory Book is now available. Perfect for Christmas gifts or any occasion. Order a copy for yourself and plenty of extras for your gift-giving needs.