St. Michaels Historical Society
Welcome to the St. Michaels Historical Society website. Our site contains information about the past and present of our parish. St. Michaels Catholic Church is located in the village of Tarnov, Nebraska, in the heartland of the United States.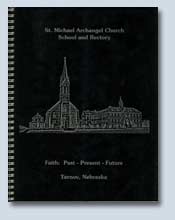 The Saint Michael History/Church Directory Book is now available. Perfect for Christmas gifts or any occasion. Order a copy for yourself and plenty of extras for your gift-giving needs.
Happy to see you are checking us out. Why not become a member and help us promote our Polish heritage. We need to increase our membership to make people aware of our society and what we are trying to do...Preserve the heritage of the northwest area of Platte County and preserve the Tarnov complex. We have a truly awesome museum and complex. Your only obligation is $10 per person yearly membership dues. We send a news letter yearly to our members. Now send your name and address along with $10 to Saint Michael Historical Society, 309 3rd street, Tarnov, Ne 68642 and we will keep you updated.
Thanks